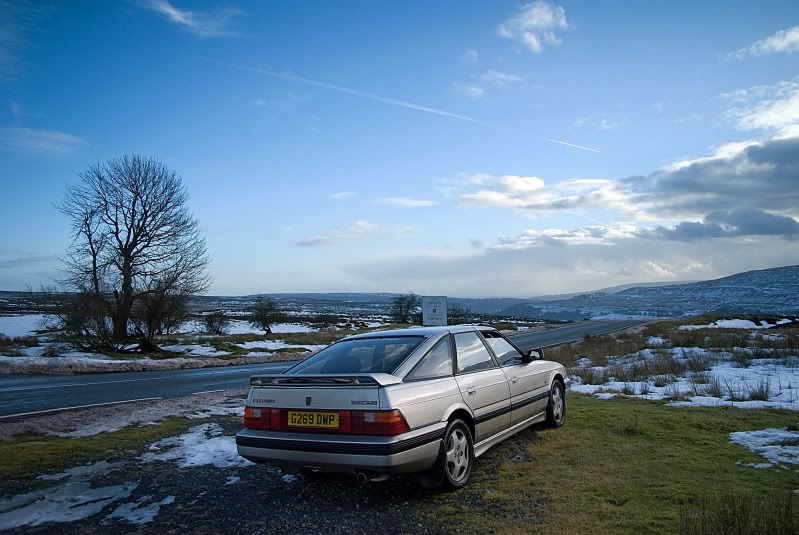 Rover 827Si in Wales; pic by the car's owner Richard Clements.
As regular readers will know, this isn't the first 827 I've reviewed in From The Captain's Chair. I drove a Startins Regency back in October, and liked it a lot. I praised it's light steering, and it's feel of effortlessness. However, at eighteen feet long it was just a smidge too long for me to get a true impression of the car, so when Rich Clements passed me the keys to his 827 Si manual, it would have been rude of me to not try it out. It was also a manual, which made things more interesting - 827 manuals are rare, and having declined an offer of a manual Sterling a few weeks earlier for insurance reasons, I wanted to see what I was missing.
Rich warned me that the clutch wasn't great, thus nominating himself for 'Understatement Of The Year' award. The bite point was at the furthest prod of the pedal - to the bottom of it's travel and then slightly through the floor. But when this was mastered, the car leapt away like a car that leaps away well. Into second and again the Honda V6 was raring to go, begging me to bury my right foot into the carpet. But not in someone else's car. Not on grass. And even disregarding those points, not until I'd more experience of the car in question. Turn-in is sharp, with wonderfully sensitive steering reacting you the slightest flick of the fingertips, and the supportive leather seats hug you - the overwhelming impression the 827 manual gives is of an unfeasibly large sports car. It's not surprising that Rover chose an 827 manual for the Isle of Man TT lap record in a production car - an achievement I have on video and that to the best of my knowledge has remained unbeaten.
What surprised me was how different in feel the car was from the Regency automatic I drove last year. Granted, it's lighter and two and a half feet shorter, but that doesn't account for the difference in power delivery. The automatic was turbine-like and almost stately. The manual, whilst still smooth, felt more like an unfeasibly big sports car than a little limousine.
In summary then, the Rover 827 is quite a car with a manual gearbox. It's certainly a car that should satisfy the keen driver, and doesn't pay for this by being unduly harsh in ride, either. In having to turn down the Sterling I was offered, I know I have missed out on a car I would have adored, that would have served me well and probably economically - on petrol as well as LPG - on my commute. But it wasn't to be, thanks to the insurance tickboxes. When driving Richard's Si I found myself wishing all forms of pestilence upon insurance brokers and all they hold dear, for denying me the ability to put an 827 on my driveway.
Criticisms? I had two. Firstly, that clutch - but I'll forgive it that on the understanding they're not all as bad as that one. Secondly, Rich's choice of in car music - local radio - wasn't to my liking. The car itself was excellent.
Buy one. I will, as and when I can.