Written for
AROnline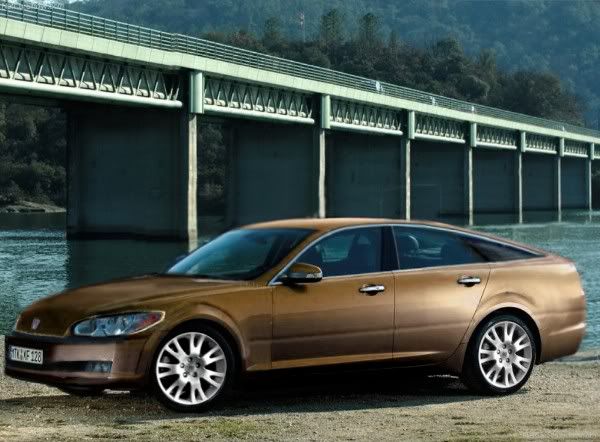 As regular readers of this site will know, I'm a BL lover. I really should join BL-coholics Anonymous, but that's beside the point. The car that first sparked my love of old motors was a Rover SD1 V8 my father owned from my birth until when I was 5. This is, I'm sure, the car that also helped focus my love of cars mainly upon BL.
Back when the SD1 was current, Rover were seen as a premium brand still. Since the P4, Rover had been innovative, unusual, and forward thinking. However, from 1991 (The launch of the R17 800) the company decided to focus upon a slightly tweedy and British image, reinforced by lots of cow, tree, and chromery. And it is in this guise - a car for the elderly - that Rover ended it's existence in 2005. The Rover brand was the British BMW of it's day until the year of my birth, and following that it sought to carve a different path for itself. I would partially blame BMW themselves for this - the custodians of Rover for much of the Nineties were hardly likely to develop in-house competitors. This is evident with the 75 - where the 3 and 5 Series BMWs were sporting saloons, the 75 was a waft-mobile. The customers of one company were not thought to have been in the market for the other.
But politics have put those days behind us; ending the existence of the Rover brand in 2005 with the closure of MG Rover and the company's purchase by NAC and SAIC of China. Amid much to-ing and fro-ing, these companies have now readied a new car for the UK, to be built in Longbridge. However, that's not the focus of my article. What is, is the fact that MG-Rover did not own the Rover name. This was owned by BMW and licenced to MG-Rover, as part of the contract made with Ford when the Jaguar and Land-Rover brands were sold to the American giant. The Rover nameplate also was sold to them outright a couple of years ago, and thus moved to TATA with their purchase of JLR. This set me thinking.
Jaguar will not be replacing the X-Type when it is discontinued in the next year or so. They blame lack of sales for this, but I think the reason is that a small saloon simply doe not fit into Jaguar's new advanced and upmarket range. However, there is no denying that they would be sacrificing a huge sector of the market in not providing a 3-Series rival. And so my thoughts started to form into an idea...
Tata have the Rover nameplate, which was a leading premium brand during it's heyday. The company pioneered the idea of a large executive hatchback; a genre which is finding favour once again after a ten year hiatus. They need a car to take on the 3-Series and A4/A5. They have the accomplished X-Type and XF chassis. So why not create a new Rover to fill the gap? Looking at it, it isn't such a silly idea as it might seem at first glance. It's entirely possible to create a car which fits stylistically with the Jags, yet retains a Rover identity. The heritage of the SD1 can be used to bolster it in it's first stages of production. It's a more fitting use of the name than letting it die.
How can we do this? My idea is to do something retro yet modern - combining something unmistakably classic Rover with something modern and chic. So I've created a couple of quick mock ups, which show this in it's best light. The exterior is an unmistakably Ian Callum-esque take on the SD1 theme, with the interior being a modernised interpretation. So we replace the walnut of the SD1 VP with aluminium, we have an LCD dashboard, we retain the two spoke wheel but incorporate the airbag. The idea would be to use a modified XF floorpan, with 2.5 and 3.0 V6s, the 3.5 V8 used only in the X350 XJ, and the 5.0 supercharged V8 in a hairy one. If you like tractor engines, some sort of diseasal would also be available. Tata/JLR, I hope you're taking note of this idea.
So, would this work? There's only one way to answer that, and it's put it to a public vote. Who, having read this and seen the images, would buy one of these over a 3 Series, C Class, or Audi A4/5? And who thinks I'm a sentimental nitwit pining for the past? Over to you.