On Sunday 15th November I made the pilgrimage to Birmingham for the International Classic Car Motors Show. The show is special in my eyes for the variety of cars on show, and for the opportunities to experience them not only as static displays, but from the passenger seat also courtesy of the Sporting Bears Motor Club.
Exhibits this year ranged from a faintly ridiculous stretch VW to a sublime pair of Gordon Keebles, filling the first four halls of the NEC. The usual extras were in attendance too, ranging from classic car publications to a stall selling expensive but exquisite driving gloves. As usual, a good third of Hall 1 was taken up by dealerships - upon whose stands I found several cosmetically and aromatically appealing Daimlers and Jaguars. Smell is something Mercedes, despite mastering baroque style, never quite got right.
I shan't pretend I saw it all: too much to see and too little time. But a number of cars caught my eye and captured my heart.
First to tempt me was a sure-fire future classic: The Jaguar XFR. Comfortable, quick, and much more of a quality product than I'd expected given my experiences of recent Jags, that is a car which will grow old gracefully.
Footman James had a pair of 420s on their stand: one of which was a truly pristine Jaguar. But the smashed and stricken Daimler next to it was the one which wooed me - it's fall from grace was disheartening but it seemed beautifully original, and bar the misshapen rear in a usable rather than concours condition.
I was also really rather impressed with the Rolls Royce Phantom. I can't say that exclusivity comes as standard - there were 4 there and I saw two within 5 days of the show - but it's a high class product.
Car, and club, of the show for me go to the Gordon-Keeble Owners' Club. Not only did they display two of the 99 built, but the people on the stand were informative and pleasant to boot. I must thank them for allowing me to sit in a G-K: a once-in-a-lifetime and wholly magical experience.
But the cherry on the cake was the SD1. My very earliest memories are of my father's V8 VP which was sold when I was 5, and I am convinced that car is responsible for my love of old tin. One kind chap from the SD1 club let me sit in his S1 3500 - a misty eyed moment upon which to end the day.
As is, I understand, traditional, the horn of every car was sounded at 5.30pm to signal the end of the three day event. The symphony provided was aural heaven.
Thanks to Dan Pyke and Lindsey Smith for the lift down from Sheffield, and to both Richard Clements and Jonathan Sellars for putting up with me for the day. Thanks also to the many owners and enthusiasts willing to spend time chatting to me, and for making the day memorable. I can only apologise to those I meant to meet, but lacked the time to. There will be some other time.
Triumph's Herald hatchback prototype, fresh from restoration. The Coupe next to it is a faithful replica of the Brabham Herald prototype, sprting a private number plate just 2 digits from that of the original.
Plenty of XJ-S Jaguars on show, although none as nice as this car, updated using later XJS bumpers and wheels.
Another XJ-S; this time the rare and powerful Lister Le-Mans.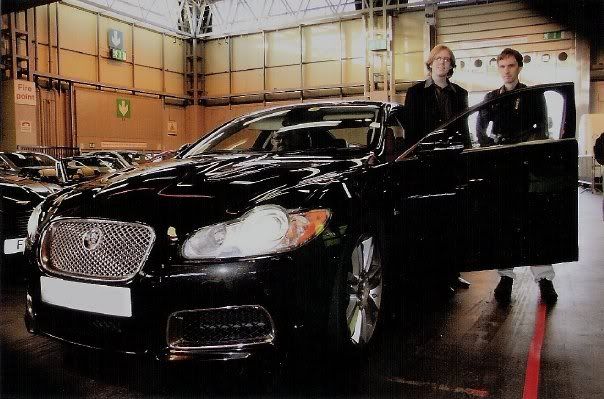 Our man Skelton with Jonathan Sellars and a Jaguar XFR.
The Rover SD1 Club put on a good show - and were cracking people to boot.
With thanks to Jonathan Sellars for the photos of the Lister Le Mans and Rover SD1.